Scientist, conservationist and 2007 Australian of the Year Prof Tim Flannery joins Tim Costello and Mel Wade to talk about the environment ahead of the 2019 Federal Election. On the agenda: climate change; extreme weather; coal and green energy; personal action; international efforts in Copenhagen and Paris; plastic; species extinction; and hope for the future.
Show Notes
In this episode of The Good Vote,Tim Costello and Mel Wade talk to Dr Tim Flannery about the environment - one of this election's most hotly debated issues.


Podcast guest Tim Flannery:


Dr Tim Flannery is one of Australia's best known scientists. A mammalogist, palaeontologist, environmental and global warming activist, explorer and conservationist, Flannery was awarded Australian of the Year in 2007.


He has discovered and named more than thirty new species of mammals (including two tree-kangaroos) and at 34 he was awarded the Edgeworth David Medal for Outstanding Research. His pioneering work in New Guinea prompted Sir David Attenborough to put him in the league of the world's great explorers and the writer Redmond O'Hanlon to remark, "He's discovered more new species than Charles Darwin."


In 2002, Flannery received a Centenary of Federation Medal for his service to science and became the first environmentalist to deliver the Australia Day address to the nation.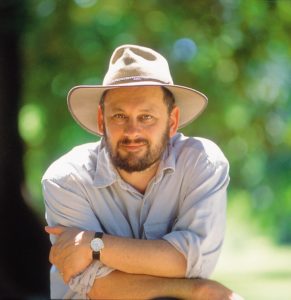 Flannery has taught at Harvard University, and advised governments both in Australia and Canada. He advised Sir Richard Branson on the Virgin Earth Challenge, and has served on the board of WWF International and the Australian Wildlife Conservancy, and as an advisor to the National Geographic Society.


In 2011, he was appointed Australia's first Climate Commissioner and in 2013, he founded, and is chief councillor, of the Australian Climate Council, Australia's largest and most successful crowdfunded organisation.


Flannery regularly contributes his voice to ABC Radio, NPR and the BBC, and has written and hosted several Documentary Channel specials, including The Future, and Islands in the Sky.


He regularly writes for The New York Review of booksand The Times Literary Supplement. He has edited and introduced many historical works and has published over 140 peer-reviewed scientific papers. His 32 books include The Future Eatersand The Weather Makers,which has been translated into over 20 languages.


His latest book is Sunlight and Seaweed: An Argument for How to Feed, Power and Clean Up the World.


What is The Good Vote?
What issues matter most to Australian Christians during an election? Hosts Tim Costello and Mel Wade talk to Australia's experts and leaders - including the ones that Christians don't usually get to hear from!
Episode guests:
Prof Ian Harper (Reserve Bank & Dean of Melbourne Business School, Melbourne University) - Economy;
John Anderson (Former Deputy PM & Nationals Leader) - Religious Freedom;
Natasha Stott Despoja (former senator & Ambassador for Women and Girls) - Women
Dr Tim Flannery (leading climate scientist & Australian of the Year winner) - Environment
Dr Susan Carland (author & Muslim spokesperson) - Islamophobia
Mark Yettica-Paulson (Aboriginal leader) - Aboriginal and Torres Strait Islander peoples