Retired Air Force Colonel Robert Swanson joins the show to discuss how he recovered after two non-fatal suicide attempts as a young company grade officer and what he is doing now to help others know that there can be a life worth living after getting help.
Show Notes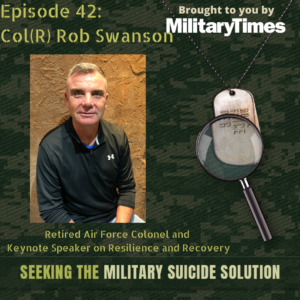 About Today's Guest:
Colonel Robert "Rob" Swanson retired from active duty after serving nearly 35 years. Since retirement, he completed an Executive MBA from the Shidler School of Business and has been actively involved as keynote speaker, senior mentor and advisor for the award-winning Fight For Each Other suicide prevention program in Hawaii.


Prior to retirement, Colonel Swanson was Chief, Weather Strategic Plans and Interagency Integration Division, Directorate of Weather, Deputy Chief of Staff, Operations, Headquarters U.S. Air Force, Washington, D.C. The Division plans weather, climate and space environmental support for the Air Force Weather functional area and oversees integration of technology and weather into C4I and modeling systems.


Links Mentioned in this Episode:


Join our Facebook Group:


How to Leave a Podcast Review
Leaving a podcast review at iTunes isn't intuitive. But positive ratings are hugely important: they help the podcast get discovered by new people. Please spend 5 minutes of your time to leave a review using one of the methods below.
How to leave a podcast review using Apple's Podcast app


2. Click "Listen on Apple Podcasts"
3. Scroll down and click or tap "Write a Review." Enter your iTunes password to login.
4. Rate the podcast using 1 to 5 stars.
5. Submit a brief honest review.


Bonus: get a thank-you note

Your feedback is greatly appreciated. When you leave a review, drop us a line at info@veteranmentalhealth.com and you'll get a message with the warmest appreciation, and a bonus gift!
For Android users, Google Podcasts does not allow for ratings or reviews, but you can certainly let us know how you think we're doing on
Spotify
,
Stitcher
, or
iHeartRadio

Many thanks,
Duane and Shauna
What is Seeking the Military Suicide Solution?
The statistics about suicide in the military affiliated population are alarming, and many are aware of them. Awareness is no longer enough, however. Communities must pair that awareness with meaningful action in order to make a difference. Brought to you by Military Times, join combat veteran and clinical mental health counselor Duane France and nationally recognized suicide prevention expert Dr. Shauna Springer every week as they bring the knowledge of experts on suicide in the military affiliated population to communities that need it.